From the desk of Joe Rios
Last week's sell-off in the stock indices led by the Dow Jones Industrial Average 300 point decline on Friday got everyone's attention. While financial market writers focused on the stock indices, of greater importance should be the bullish breakout in US Treasuries along with the rally in Foreign currencies and decline of the US Dollar. As I wrote last week "In the week ahead I will continue to focus on the benchmarks and the relationship between the Ten Year Treasury Notes and the Foreign currencies as well as economic data from China". Many professionals in the financial community are blaming credit concerns in China as the catalyst for the stock indices sell-off on Friday. I would like to point out that continued weakness in emerging markets including the currency devaluation in Argentina and political unrest in Turkey could help to further weaken risk assets in the week ahead. I will continue to focus on correlations with the bond, stock and currency markets.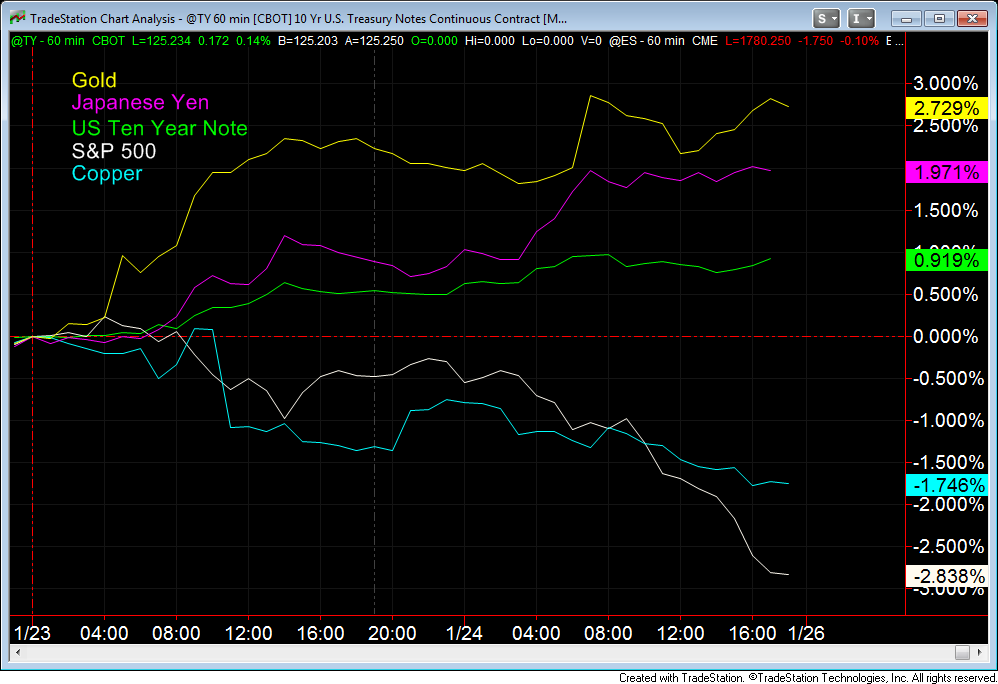 Back on March 10, 2013 I wrote "Are the currency and bond markets trying to tell us something? The recent rally in the US Dollar might be pricing-in higher yields in the near future". You can read the full report titled What's going on? What are the markets telling us? What's next?. by clicking on this link.
I keep reading about how the Japanese Yen is a preferred flight to safety asset. Nonsense! As I keep reminding our members, when the stock indices sell-off and the Japanese Yen rises, it's most likely to be the unwinding of a carry trade.
The super rich including institutional investors have advantage over the average individual investor, they can borrow at an extremely low interest rate and reinvest in higher-yielding opportunities, hence the carry trade.
For years the Japanese Yen has been one of the favorite currencies to borrow for carry trades. After 2008 with global interest rates plummeting to record lows the favorite higher-yielding investment opportunities have been in US and global stocks as well as emerging markets.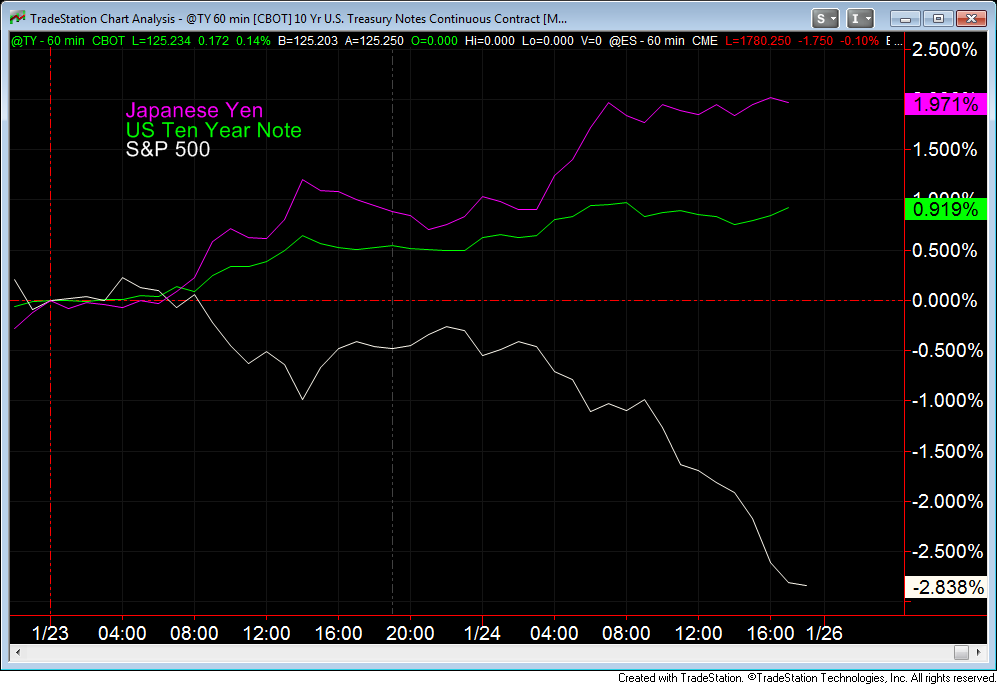 The Japanese Yen being the lowest interest rate currency within the developed economies is subject to currency fluctuations as investments tied to carry trades initiate positions and/or unwind positions. That is why we witnessed a rising Japanese Yen with the sell-off in the stock indices.
Join us in our live trading room during market hours and watch us identify and trade the markets most poised for aggressive price action. Click here for access.
Scheduled economic data releases that may have an impact on the markets include:
Monday
4:00 AM EUR German IFO Business Climate
10:00 AM USD New-Home Sales
7:30 PM AUD NAB Business Confidence
Tuesday
4:30 AM GBP Preliminary GDP
8:30 AM USD Core Durable Goods Orders
10:00 AM USD CB Consumer Confidence
Wednesday
7:15 AM BOE Gov. Carney Speaks
10:30 AM Crude Oil Inventories
2:00 PM FOMC Statement
3:00 PM RBNZ Rate Statement
8:45 PM CNY HSBC Final Manufacturing PMI
Thursday
8:30 AM USD Advance GDP
8:30 AM USD Unemployment Claims
10:00 AM USD Pending Home Sales
10:30 AM Natural Gas Storage
4:45 PM NZD Trade Balance
6:00 PM NZD RBNZ Gov. Wheeler Speaks
6:30 PM AUD PPI
Friday
8:30 AM CAD GDP
8:00 PM CNY Manufacturing PMI