From the desk of Joe Rios
The US Dollar rally continued to impress, pushing the Euro to a new 22 month low and sending the commodity currencies dramatically lower including the Aussie, Kiwi and Canadian dollars. The Japanese Yen managed to consolidate for most of the week but finished at a key support level. Will further US Dollar strength help drive the Yen lower? Or will another sell-off in the stock indices trigger Yen short covering? The S&P 500 and US Ten Year Note tested key levels of support and resistance but failed with any significant follow through. Will the benchmarks make another attempt in the week ahead? Will the US Ten Year Note continue to lead the broad markets? In the week ahead I will continue to focus on the bond market but will also be paying attention to the energy market. Take special note of the consolidation patterns in Crude Oil and Natural Gas, will they breakout this week? Noteworthy will also be the oversold and overbought markets, will profit taking begin, providing trading opportunities? I am expecting an exciting week in the markets with potential of volatility, possibly being triggered by a busy economic calendar while the key markets are resting at key technical levels.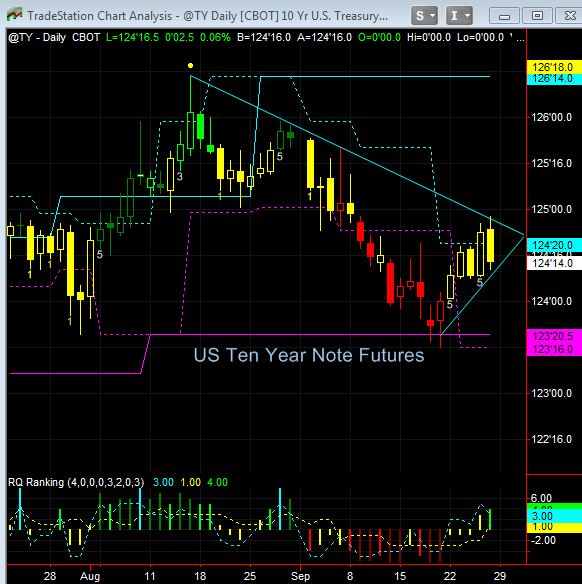 Live Trading Rooms and Events: The Trading Room TradeLAB
Global Trading with Quantitative Technologies
Monday through Friday beginning at 7:30 AM ET
https://www3.gotomeeting.com/register/293849286
RQ trade coaches include Edward Preston, Steve Schwartz and Joe Rios. Live demonstration of our pre-market quantitative analysis, real-time trading signals with RQ algorithmic technology, strategy performance review and Q&A session.
---
Insider's Quant (IQ) Room
Advanced Concepts with Joe Rios
Monday, Tuesday, and Thursday beginning at 1:30 PM ET
SUBSCRIPTION ONLY
_______________________________________________
The Trading Room EDU – Educational Workshop 
Covering the Rios Quant Trading Indicators:
Tuesday beginning at 7:30 PM ET
https://www3.gotomeeting.com/register/780453150
Topic: Weekly Pattern Trading
Presenter: Steve Schwartz
Saturday beginning at 11:00 AM ET
https://www3.gotomeeting.com/register/798422742
Topic: RiosQuant Basics
Presenter: Steve Schwartz
MONDAY
USD – Personal Spending – 8:30 AM ET
USD – Pending Home Sales – 10:00 AM ET
NZD – ANZ Business Confidence – 8:00 PM ET
CNY – HSBC Final Manufacturing PMI – 9:45 PM ET
TUESDAY
GBP – Current-Account – 4:30 AM ET
EUR – CPI Flash Estimate – 5:00 AM ET
CAD – GDP –  8:30 AM ET
USD – Chicago PMI –  9:45 AM ET
USD – CB Consumer Confidence – 10:00 AM ET
CNY – Manufacturing PMI –  9:00 PM ET
AUD – Retail Sales –  9:30 PM ET
WEDNESDAY
GBP – Manufacturing PMI – 4:30 AM ET
USD – ADP Nonfarm Employment Change – 8:15 AM ET
USD – ISM Manufacturing PMI – 10:00 AM ET
USD – Crude Oil Inventories – 10:30 AM ET
AUD – Building Approvals And Trade Balance – 9:30 PM ET
THURSDAY
GBP – Construction PMI – 4:30 AM ET
EUR – Minimum Bid Rate – 7:45 AM ET
USD – Unemployment Claims – 8:30 AM ET
EUR – ECB Press Conference – 8:30 AM ET
USD – Natural Gas Storage – 10:30 AM ET
FRIDAY
GBP – Services PMI – 4:30 AM ET
USD – Nonfarm Employment Change – 8:30 AM ET
CAD – Trade Balance – 8:30 AM ET
USD – ISM Non manufacturing PMI   – 10:00 AM ET