From the desk of Joe Rios…
Last Wednesday's surprising decline in Q1 GDP got everyone's attention. The S&P 500 continued to trade sideways but providing intraday trading opportunities. As you can see from the chart below,  RiosQuant performance coach EP Preston took the Dow Jones futures for a short profitable trade during the TradeLAB. Following the GDP report the US Treasury 10 year note rallied while the US dollar sold off.  With a weaker US dollar, the USD/CAD  and USD/JPY Forex pairs continued to slide lower while the EUR/USD and the Swiss Franc futures closed the week at a key resistance level.
There is plenty of scheduled economic data releases in the week ahead, I will also continue to pay close attention to markets that closed the week at key price patterns/levels. Rotation flows and correlations have been very helpful for market selection therefore I will continue to focus on this analysis for identifying trading opportunities. Also remember that we have important employment data and a short trading week.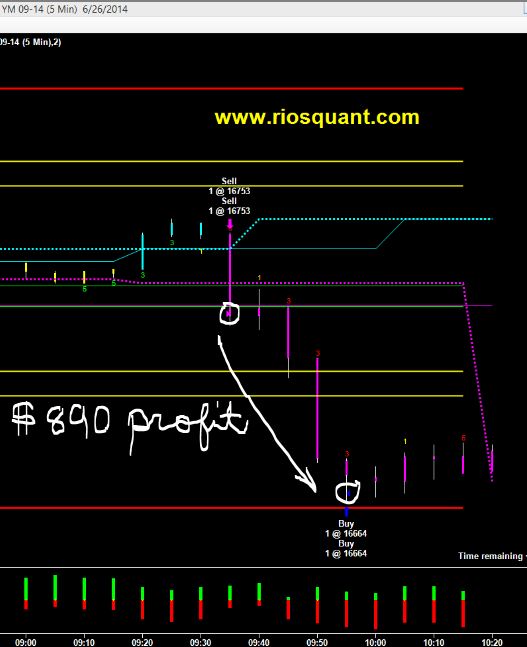 Live Trading Rooms and Educational Events
The Trading Room TradeLAB
https://www3.gotomeeting.com/register/851403430
Global Trading with Quantitative Technologies
Monday through Friday beginning at 7:30 AM ET
RQ trade coaches include Edward Preston, Steve Schwartz and Joe Rios. Live demonstration of our pre-market quantitative analysis, real-time trading signals with RQ algorithmic technology, strategy performance review and Q&A session.
_______________________________________________________
The Trading Room EDU – Educational Workshop 
Covering the Rios Quant Trading Indicators:
Tuesday beginning at 7:30 PM ET
https://www3.gotomeeting.com/register/893949558
Topic: Automated Trading with RQ-Einstein
Presenter: Steve Schwartz
_______________________________________________________
Wednesday beginning at 1:00 PM ET
https://www3.gotomeeting.com/register/896548574
Topic: Momentum Trading – Crude Oil and E-mini Stock Futures
Presenter: Steve Schwartz
_______________________________________________________
Wednesday beginning at 7:30 PM ET
https://www3.gotomeeting.com/register/133123430
The RiosQuant 90 Day Training Program – Workshop
Training Session 1 of 12 with Edward Preston
_______________________________________________________
Saturday beginning at 11:00 AM ET
https://www3.gotomeeting.com/register/113514326
Topic: Follow the RiosQuant 3 Step Trading Sequence
Presenter: Steve Schwartz
Monday
5:00 AM               EUR        CPI Flash Estimate
8:30 AM               CAD       GDP
9:45 AM               USD       Chicago PMI
10:00 AM             USD       Pending Home Sales
9:00 PM                CNY        Manufacturing PMI
9:45 PM                CNY        HSBC Final Manufacturing PMI
Tuesday
12:30 AM             AUD       RBA Rate Statement
4:30 AM               GBP       Manufacturing PMI
5:00 AM               EUR        Unemployment Rate
10:00 AM             USD       ISM Manufacturing PMI
9:30 PM                AUD       Trade Balance
Wednesday
4:30 AM               GBP       Construction PMI
8:15 AM               USD       ADP Nonfarm Employment Change
10:30 AM                             Crude Oil Inventories
11:00 AM             USD       Fed Chair Yellen Speaks
9:00 PM                AUD       RBA Gov. Stevens Speaks
9:00 PM                CNY        Nonmanufacturing PMI
9:30 PM                AUD       Retail Sales And Building Approvals
Thursday
4:30 AM               GBP       Services PMI
7:45 AM               EUR        Minimum Bid Rate
8:30 AM               EUR        ECB Press Conference
8:30 AM               CAD       Trade Balance
8:30 AM               USD       Trade Balance
8:30 AM               USD       Nonfarm Employment Change
10:00 AM             USD       ISM Nonmanufacturing PMI
10:30 AM                             Natural Gas Storage