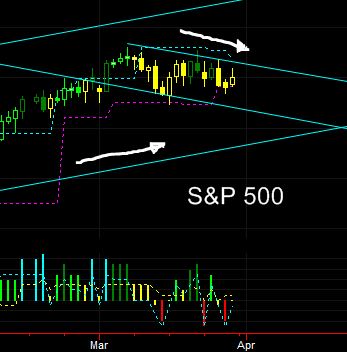 Since the FOMC statement last March the 19th, the US treasury 10 Year Note has held at a key support level. However the US equity markets have been trading sideways creating havoc for trend traders. The Russell 2000 and the NASDAQ 100 have under-performed while the Dow Jones Industrial Average has remarkably outperformed due to strength in the Energy and Utility sectors. Risk commodities outperformed last week led by Crude Oil and Copper. In the global markets most major emerging market ETF outperformed the US this past week led by Brazil, China and India. In the Forex market the commodity currencies outperformed the group led by the Australian, New Zealand and Canadian dollar.
Technically speaking the S&P 500 index ended the week in a short term downward channel located in the middle of a longer term upward trend channel, hence last week's choppy market environment. Therefore In the week ahead I will pay close attention to the correlation between the two major benchmarks, the US treasury 10 year note and the S&P 500 index with the vista of using the US Treasury as a leading indicator for the S&P 500 price action and direction. Also pay close attention to the scheduled economic data releases below as they may serve as a trigger for price action volatility in the global financial markets.
Joe Rios
Chief Market Strategist
www.riosquant.com
Live Rooms and Events
Please take note of this week's schedule at a glance including key economic reports that might have an impact on the markets. Live trading rooms and educational events are also listed with the appropriate links for gaining access. While some of the events are free, others are for members only. Let us know if you have an interest and we will provide you with all the pertinent information.
Contact Information for your Support Needs:
Amber Little, RQ Client Relations Manager
email: amber@riosquant.com
skype: alittlemobile
cellphone: 415.336.7272
Live Trading Rooms and Events:
The Trading Room TradeLAB – Global Trading with Quantitative Technologies
Monday through Friday beginning at 7:30 AM ET
https://www3.gotomeeting.com/register/670718942
RQ trade coaches include Edward Preston, Steve Schwartz and Joe Rios. Live demonstration of our pre-market quantitative analysis, real-time trading signals with RQ algorithmic technology, strategy performance review and Q&A session.
Insider's Quant (IQ) Room – Advanced Concepts with Joe Rios
Monday, Wednesday, and Thursday beginning at 1:30 PM ET
Subscription Only!
The Trading Room EDU – Educational Workshop Covering the Rios Quant Trading Indicators
https://www3.gotomeeting.com/register/875227822
Wednesday beginning at 7:30 PM ET
Topic: RQ-Channel Indicator with Performance Coach Steve Schwartz
The Trading Room EDU – Educational Workshop Covering the Rios Quant Trading Indicators
https://www3.gotomeeting.com/register/735458790
Thursday beginning at 7:30 PM ET
Topic: The Next Big Swing with Performance Coach Edward Preston
The Trading Room EDU – Educational Workshop Covering the Rios Quant Trading Indicators
https://www3.gotomeeting.com/register/933406454
Saturday beginning at 10:30 AM ET
Topic: RQ-Einstein Auto-Trading with Performance Steve Schwartz
MONDAY
Economic Data Release – Market Movers
EUR – CPI Flash Estimate – 5:00 AM ET
CAD – GDP – 8:30 AM ET
USD – Chicago PMI – 9:45 AM ET
USD – Fed Chair Yellen Speaks – 9:55 AM ET
GBP – BOE Gov. Carney Speaks – 1:15 PM ET
CNY – HSBC Final Manufacturing PMI – 9:00 PM ET
AUD – RBA Rate Statement – 11:30 PM ET
The Trading Room TradeLAB
https://www3.gotomeeting.com/register/670718942
Beginning at 7:30 AM ET
Insider's Quant (IQ) Room – Advanced Concepts with Joe Rios
Beginning at 1:30 PM ET
TUESDAY
Economic Data Release – Market Movers
GBP – Manufacturing PMI – 4:30 AM ET
USD – ISM Manufacturing PMI – 10:00 AM ET
USD – Crude Oil Inventories – 10:30 AM ET
AUD – Building Approvals – 8:30 PM ET
The Trading Room TradeLAB
https://www3.gotomeeting.com/register/670718942
Beginning at 7:30 AM ET
The Trading Room EDU – Educational Workshop Covering the Rios Quant Trading Indicators
https://www3.gotomeeting.com/register/875227822
Wednesday beginning at 7:30 PM ET
Topic: RQ-Channel Indicator with Steve Schwartz
WEDNESDAY
Economic Data Release – Market Movers
GBP – Construction PMI – 4:30 AM ET
USD – ADP Non-Farm Employment Change – 8:15 AM ET
AUD – Retail Sales and Trade Balance – 8:30 PM ET
AUD – RBA Gov. Stevens Speaks – 10:00 PM ET
Insider's Quant (IQ) Room – Advanced Concepts with Joe Rios
Beginning at 1:30 PM ET
The Trading Room TradeLAB
https://www3.gotomeeting.com/register/670718942
Beginning at 7:30 AM ET
THURSDAY
Economic Data Release – Market Movers
GBP – Services PMI – 4:30 AM ET
EUR – Minimum Bid Rate – 7:45 AM ET
EUR – ECB Press Conference – 8:30 AM ET
CAD – Trade Balance – 8:30 AM ET
USD – Trade Balance and Unemployment Claims – 8:30 AM ET
USD – ISM Non-Manufacturing PMI – 10:00 AM ET
USD – Natural Gas Storage – 10:30 AM ET
The Trading Room TradeLAB
https://www3.gotomeeting.com/register/670718942
Beginning at 7:30 AM ET
Insider's Quant (IQ) Room – Advanced Concepts with Joe Rios
Beginning at 1:30 PM ET
The Trading Room EDU – Educational Workshop Covering the Rios Quant Trading Indicators
https://www3.gotomeeting.com/register/735458790
Thursday beginning at 7:30 PM ET
Topic: The Next Big Swing with Edward Preston
FRIDAY
Economic Data Release – Market Movers
CAD – Unemployment Rate – 8:30 AM ET
USD – Non-Farm Employment Change and
Employment Rate – 8:30 AM ET
CAD – Ivey PMI – 10:00 AM ET
The Trading Room TradeLAB
https://www3.gotomeeting.com/register/670718942
Beginning at 7:30 AM ET
SATURDAY
The Trading Room EDU – Educational Workshop Covering the Rios Quant Trading Indicators
https://www3.gotomeeting.com/register/933406454
Beginning at 10:30 AM ET
Topic: RQ-Einstein Auto-Trading with Steve Schwartz
THERE IS A SUBSTANTIAL RISK OF LOSS IN TRADING COMMODITY
FUTURES, OPTIONS, AND FOREIGN EXCHANGE PRODUCTS