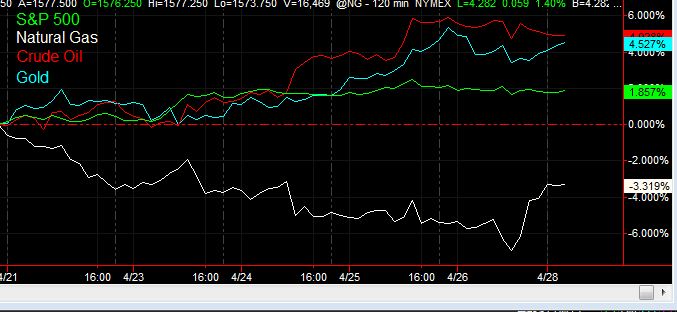 China's first-quarter GDP disappointed falling short of market expectations, sending the Australian Dollar lower by -1.86%, the largest one-day decline so far this year. The two economies are closely correlated as Australia's natural resources is exported to China in times of high demand. Crude Oil gained 5.4% and Gold rose 4.8% as the outperforming asset classes while natural gas dropped 5.9%. In the week ahead I will be paying attention to the European Central Bank meeting on Thursday as they announce policy. The market is expecting a 25 basis point reduction in the benchmark rate. Technically speaking the USD/JPY FX pair formed a bearish double top pattern and may be setting up for aggressive price action opportunities throughout the week. Join us this week in the TradeLAB and watch our quant head trader Edward Preston navigate the global markets with the RQ technology as he closes the month of April. Will he close the month strong? Will he find trading opportunities in Gold and Crude Oil or will it be the  Japanese Yen? To access the TradeLAB click on the following link.
TradeLAB – Monday thru Friday
https://www3.gotomeeting.com/register/176837126
8:00 AM ET to 11:00 AM ET
RQ trade coaches include Edward Preston, Steve Schwartz and Joe Rios. Live demonstration of our pre-market quantitative analysis, real-time trading signals with RQ algorithmic technology, strategy performance review and Q&A session.