Did the Oil market anticipate the conflict in Iraq?
During Sunday's Face the Nation TV show, Bob Schieffer reported that the Iraq violence caught everybody by surprise.  But last week's price action and correlation in a couple of markets would make you think a few anticipated it. Crude Oil futures had a strong rally into the close on the first day of trade, Monday the 9th. Gold futures price action also showed a strong move last week.  Since mid-March Gold and Crude Oil were trading in opposite direction until last week where the correlations turned positive,  both markets ending the week strong. You can see it clearly on the chart below.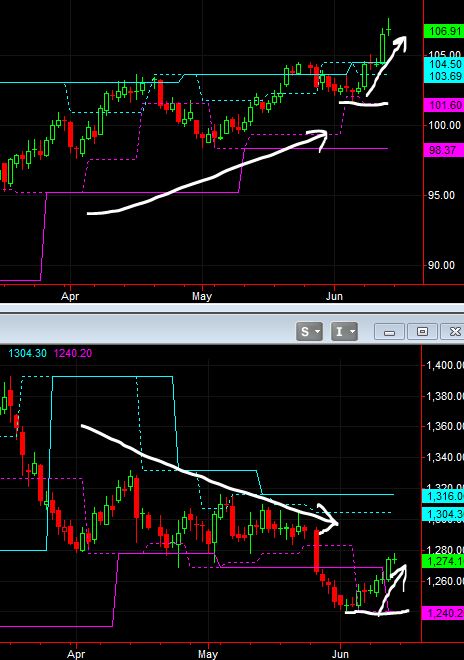 Last week we saw the independent asset classes such as Natural Gas and the Grains provide us with trading opportunities.  In the week ahead I will be applying the same techniques to the risk asset classes. I am also expecting the market's price action to be news driven. We also have an active economic calendar including FOMC rate decision and communication which can also trigger volatility. It would be prudent to follow your game plan for the upcoming trading sessions. Be careful not to chase trades, instead keep your focus on trade setups ahead of time with "eyes ahead" using the forward looking techniques we used in the grains market to identify ideal trading opportunities.
Keep listening to the market's message and trade accordingly.
Joe Rios
Chief Market Strategist
www.riosquant.com
Live Rooms and Events
Please take note of this week's schedule at a glance including key economic reports that might have an impact on the markets. Live trading rooms and educational events are also listed with the appropriate links for gaining access. While some of the events are free, others are for members only. Let us know if you have an interest and we will provide you with all the pertinent information.
Contact Information for your Support Needs: 
Amber Little, RQ Client Relations Manager
email: amber@riosquant.com
skype: alittlemobile
cellphone: 415.336.7272
Live Trading Rooms and Events:
The Trading Room TradeLAB
https://www3.gotomeeting.com/register/169828118
Global Trading with Quantitative Technologies
Monday through Friday beginning at 7:30 AM ET
RQ trade coaches include Edward Preston, Steve Schwartz and Joe Rios. Live demonstration of our pre-market quantitative analysis, real-time trading signals with RQ algorithmic technology, strategy performance review and Q&A session.
Insider's Quant (IQ) Room – Advanced Concepts with Joe Rios
Wednesday and Thursday beginning at 1:30 pm ET
Subscription Only!
_______________________________________________
The Trading Room EDU – Educational Workshop 
Covering the Rios Quant Trading Indicators:
Tuesday beginning at 1:00 PM ET
https://www3.gotomeeting.com/register/621440286
Topic: Momentum Trade E-Mini Stock Futures
with GnosTick Indicator
Presenter: Steve Schwartz
Wednesday beginning at 7:30 PM ET
https://www3.gotomeeting.com/register/731915334
The RiosQuant 90 Day Training Program – Workshop
Training Session 11 of 12 with Edward Preston
Topic: Customized Trade Execution
Thursday beginning at 4:30 PM ET
https://www3.gotomeeting.com/register/657577758
Topic: Pattern Trading with GnosLevels
Presenter: Steve Schwartz
Saturday beginning at 11:00 AM ET
https://www3.gotomeeting.com/register/684484006
Topic: Follow the RiosQuant 3 Step Sequence
Presenter: Steve Schwartz
Monday
8:30 AM               USD       Empire State Manufacturing Index
9:15 AM               USD       Industrial Production And Capacity Utilization Rate
9:30 PM                AUD       Monetary Policy Meeting Minutes
Tuesday
4:30 AM               GBP       CPI And PPI
5:00 AM               EUR        German ZEW  Economic Sentiment
8:30 AM               USD       Building Permits And Core CPI
Wednesday
4:30 AM               GBP       M PC     Asset Purchase Facility Votes
10:30 AM             Crude Oil Inventories
2:00 PM                USD       FOMC Statement
2:30 PM                USD       FOMC Press Conference
6:45 PM                NZD       GDP
Thursday
3:30 AM               CHF        Libor  Rate And SNB Press Conference
4:30 AM               GBP       Retail Sales
8:30 AM               USD       Unemployment Claims
10:00 AM             USD       Philly Fed Manufacturing Index
10:30 AM             Natural Gas Storage
Friday
2:35 AM               JPY         BOJ Gov Kuroda Speaks
8:30 AM               CAD       Retail Sales And Core CPI