Rethink Relative Performance Think RQ-Tech
Last week's labor report and the ECB's aggressive monetary policy stance helped push stock indices higher.  As I have reminded our members these past few weeks, we need to listen to the market's message and not base our trades on our own opinions. One method of listening to the market is by measuring relative performance between key markets and thus identify rotation flows.
There are several ways to measure the performance of markets, typically on either an absolute or a relative basis. Price change over a specified time period is an example of absolute performance, while relative performance communicates how well a market has performed compared to some benchmark(s),  like the S&P 500, US Treasury 10 Yr. Note and/or the US Dollar.
The RiosQuant approach to market selection is to utilize the three major asset classes as benchmarks in order to identify rotation flows and risk sentiment. For day traders selecting markets poised for aggressive price action is of utmost importance, regardless of the style of trading.  Applying correlation analysis to relative performance can add another layer of predictive value.
The RQ-Tech's ability to mine data and number crunch complex and lengthy calculations in milliseconds can be advantageous in making quick decisions, especially during fast moving markets.  I have often said that market selection is one of the most important aspects of trading successfully. Whether you are a trend  trader, mean reversion or momentum trader.  Knowing which markets are under aggressive accumulation and/or distribution can be your game changer for succeeding as a trader.
Last week the stock indices moved higher and the US 10 Yr. Note and Japanese Yen traded lower, due mostly to improved risk appetite.  But not all risk assets followed as you can see on the chart below "Relative Performance – Risk Assets", Copper and Crude Oil underperformed.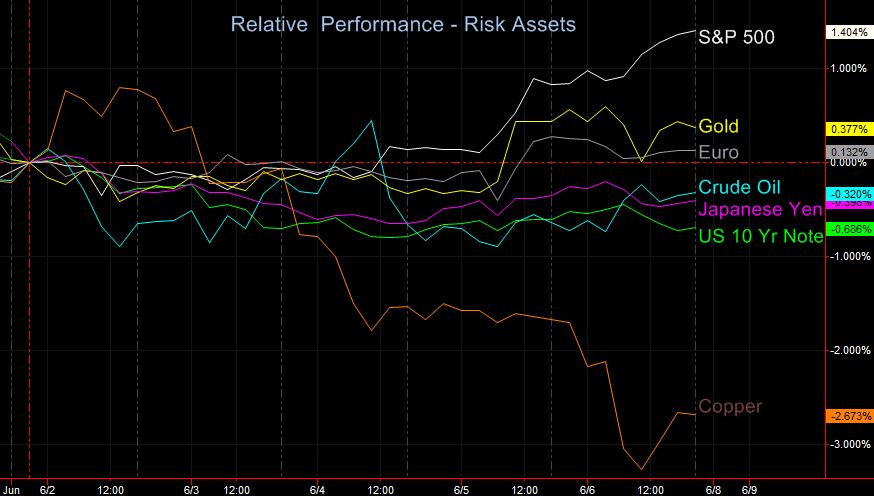 Are the risk currencies decoupling from the US 10 Yr. Note? Will they  follow the S&P 500 in the week ahead? In the currency market the Australian Dollar was the outperformer closing the week strong along with the S&P 500.  As you can see in the chart below "Relative Performance – Currencies", the negative correlation between the S&P 500 and the Japanese Yen continued but the Euro, Swiss Franc and British Pound traded close to each other and finished the week slightly higher.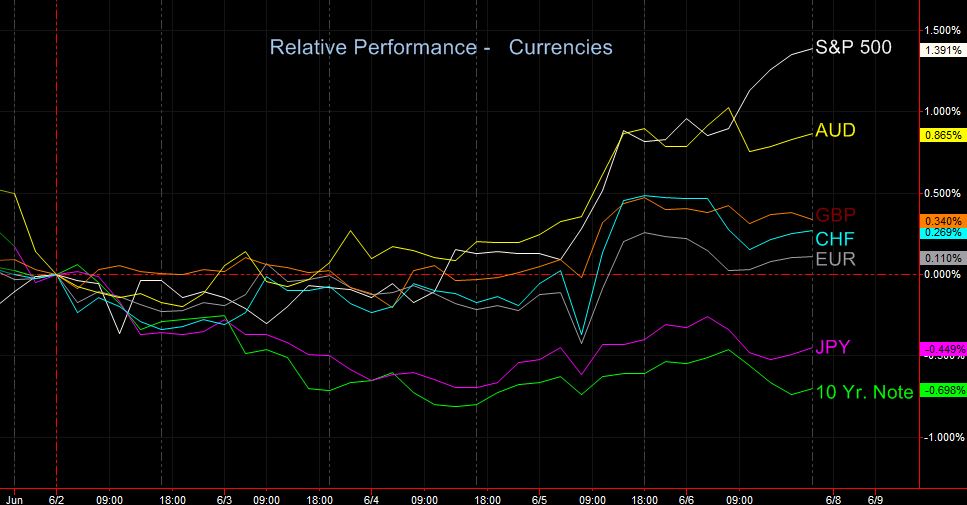 In the commodity market Natural Gas was the outperformer while Soy closed the week lower.  The RQ Cross Box quant ranking has been mostly bearish since May as Corn prices have been steadily dropping but Corn and Wheat reversed on Friday regaining most of the week's losses on what appeared to be short covering ahead of the weekend.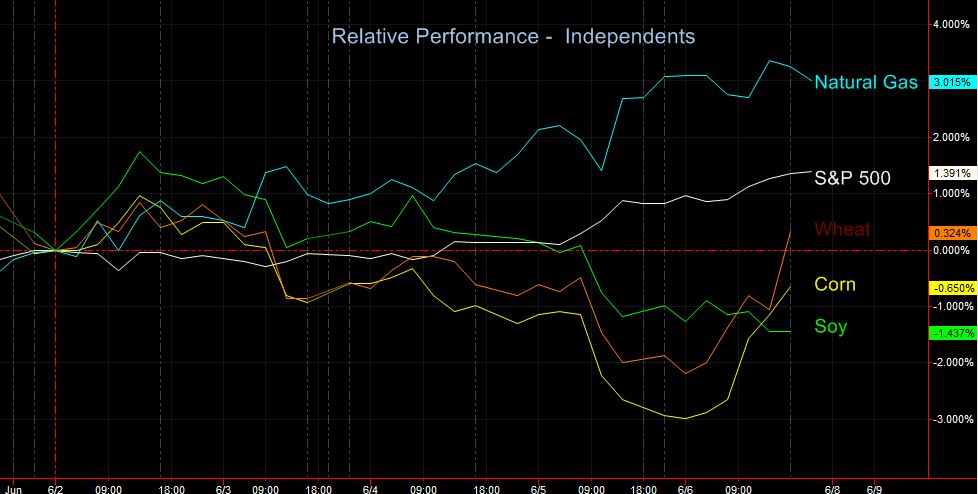 In the week ahead I will continue to monitor rotation flows and correlations in the currency markets as well as in the risk assets. I will also look to the independent asset classes for trading opportunities.Natural Gas and the Grains afforded us some opportunities, as you can see on the chart below, our member Jim took 2 Soy futures short for a winning trade.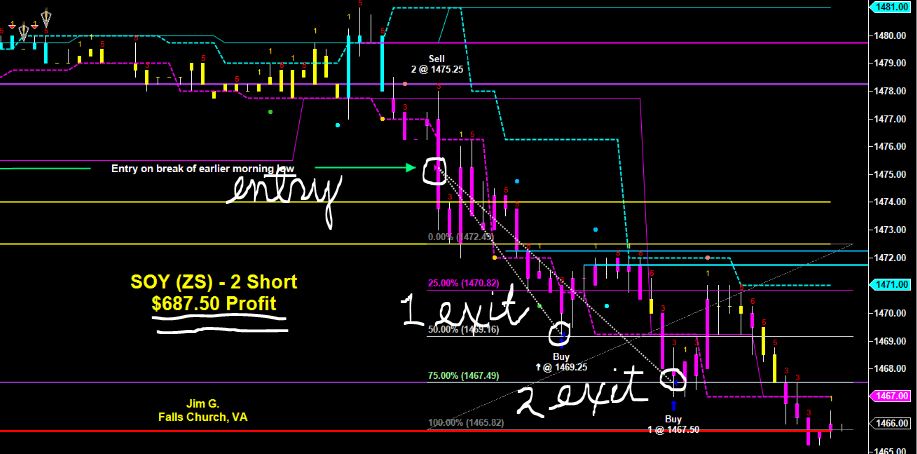 Live Rooms and Events
Please take note of this week's schedule at a glance including key economic reports that might have an impact on the markets. Live trading rooms and educational events are also listed with the appropriate links for gaining access. While some of the events are free, others are for members only. Let us know if you have an interest and we will provide you with all the pertinent information.
Contact Information for your Support Needs: 
Amber Little, RQ Client Relations Manager
email: amber@riosquant.com
skype: alittlemobile
cellphone: 415.336.7272
Live Trading Rooms and Events:
The Trading Room TradeLAB
https://www3.gotomeeting.com/register/542156390
Global Trading with Quantitative Technologies
Monday through Friday beginning at 7:30 AM ET
RQ trade coaches include Edward Preston, Steve Schwartz and Joe Rios. Live demonstration of our pre-market quantitative analysis, real-time trading signals with RQ algorithmic technology, strategy performance review and Q&A session.
Insider's Quant (IQ) Room – Advanced Concepts with Joe Rios
Monday, Wednesday and Thursday beginning at 1:30pm ET
Subscription Only!
_______________________________________________
The Trading Room EDU – Educational Workshop 
Covering the Rios Quant Trading Indicators:
Monday beginning at 7:00 PM ET
https://www3.gotomeeting.com/register/393359470
Topic: Looking for this Week's Trading Patterns
Presenter: Steve Schwartz
The RiosQuant 90 Day Training Program – Workshop
https://www3.gotomeeting.com/register/352383110
Wednesday beginning at 7:30 PM ET
Training Session 10 of 12 with Steve Schwartz
Topic: RQ-Einstein Auto-Trading
Thursday beginning at 7:30 PM ET
https://www3.gotomeeting.com/register/358668390
Topic: The Next Big Swing
Presenter: Edward Preston
Saturday beginning at 10:30 AM ET
https://www3.gotomeeting.com/register/406974054
Topic: Momentum Trading With RQ-Channel
Presenter: Steve Schwartz
MONDAY
Economic Data Release – Market Movers
CAD – Housing Starts  – 8:15 AM ET
AUD – RBA Gov. Stevens Speaks – 12:00 PM ET
USD – Grain Crop Progress  – 4:00 PM ET
AUD – NAB Business Confidence – 9:30 PM ET
CNY – CPI and PPI  – 9:30 PM ET
TUESDAY
Economic Data Release – Market Movers
GBP – Manufacturing Production – 4:30 AM ET
AUD – Westpac Consumer Sentiment – 8:30 PM ET
WEDNESDAY
Economic Data Release – Market Movers
OPEC Meetings – All Day
GBP – Unemployment Rate – 4:30 AM ET
USD – Crude Oil Inventories – 10:30 AM ET
USD – Grains Crop Production – 12:00 PM ET
USD – Grains World Markets and Trade – 12:15 PM ET
NZD – RBNZ Rate Statement and Monetary
Policy Statement  – 5:00 PM ET
AUD – Unemployment Rate – 9:30 PM ET
THURSDAY
Economic Data Release – Market Movers
USD – Retail Sales and Unemployment Claims – 8:30 AM ET
USD – Grains Weekly Export Sales – 8:30 AM ET
USD – Business Inventories – 10:00 AM ET
USD – Natural Gas Storage – 10:30 AM ET
CAD – Boc Gov. Poloz Speaks – 11:15 AM ET
GBP – Gov. Carney Speaks – 6:00 PM ET
JPY – Monetary Policy Statement – Tentative
FRIDAY
Economic Data Release – Market Movers
CNY – Industrial Production – 1:30 AM ET
JPY – Boj Press Conference – Tentative
CAD – Manufacturing Sales – 8:30 AM ET
USD – PPI – 8:30 AM ET
USD – Prelim Uom Consumer Sentiment – 9:55 AM ET
USD – Grains Wheat Outlook – 1:00 PM ET